OH, GOOD IT STOPPED RAINING IN TEXAS. But it rained everywhere else, including Oxford, Mississippi where a rain delay on Friday pushed the game to an abbreviated double header on Saturday that didn't double. Unfortunately, the Ags didn't have the chance to make up for their loss in the first game with the inclement weather and they end the regular season on a 7-4 loss.
IT RAINS IN OKLAHOMA? The first game yesterday against OU ended in a 7-5 loss for the Aggies. In the second game against Lehigh, play was suspended after three innings due to weather. Ags are currently ahead a 4-0 and will continue the game today at noon. Winner plays Oklahoma at 2:30 PM and 5 PM where the Ags need to beat OU twice to continue out of regionals. All games are on ESPN3.
POSTSEASON GOODNESS. Pitcher Grayson Long was named to a couple of awards watchlists including semifinalist for the Dick Howser Trophy and he is one of 25 finalist for the National College Baseball Hall of Fame's Pitcher of the Year Award. Whoop on that.
*GRUNT* *POP* *GRUNT* *WOOMP WOOMP* (Seriously, tennis needs more fun stuff to happen.) During the historic run for the NCAA Championship title, Aggie Men's Tennis fell to #3 Virginia in the Elite 8 4-0. This is the furthest Aggie Tennis has gone in the Championship, and with a SEC Championship, this year has been a great one for Men's Tennis. Good job, guys.
AGGIE LADIES ARE THE ABSOLUTE BEST. Amanda Scarborough '08, former Aggie Softball pitcher put up a nice piece for the Eagle today discussing her thoughts of being a woman athlete at Texas A&M. After earning her master's degree at A&M in communications, Amanda started working at ESPN as a softball analyst. She is the lead softball game analyst for the SEC Network and commentates across all of ESPNs networks. Pretty much Amanda is kickass-awesome, so you should go read her article.
SEC BASEBALL TOURNAMENT BRACKET ANNOUNCED. Ags come into the tourney at the #3 seed behind LSU and Vandy and will face the winner of the Ole Miss/Alabama game in Game 5. Full bracket below c/o SEC Sports.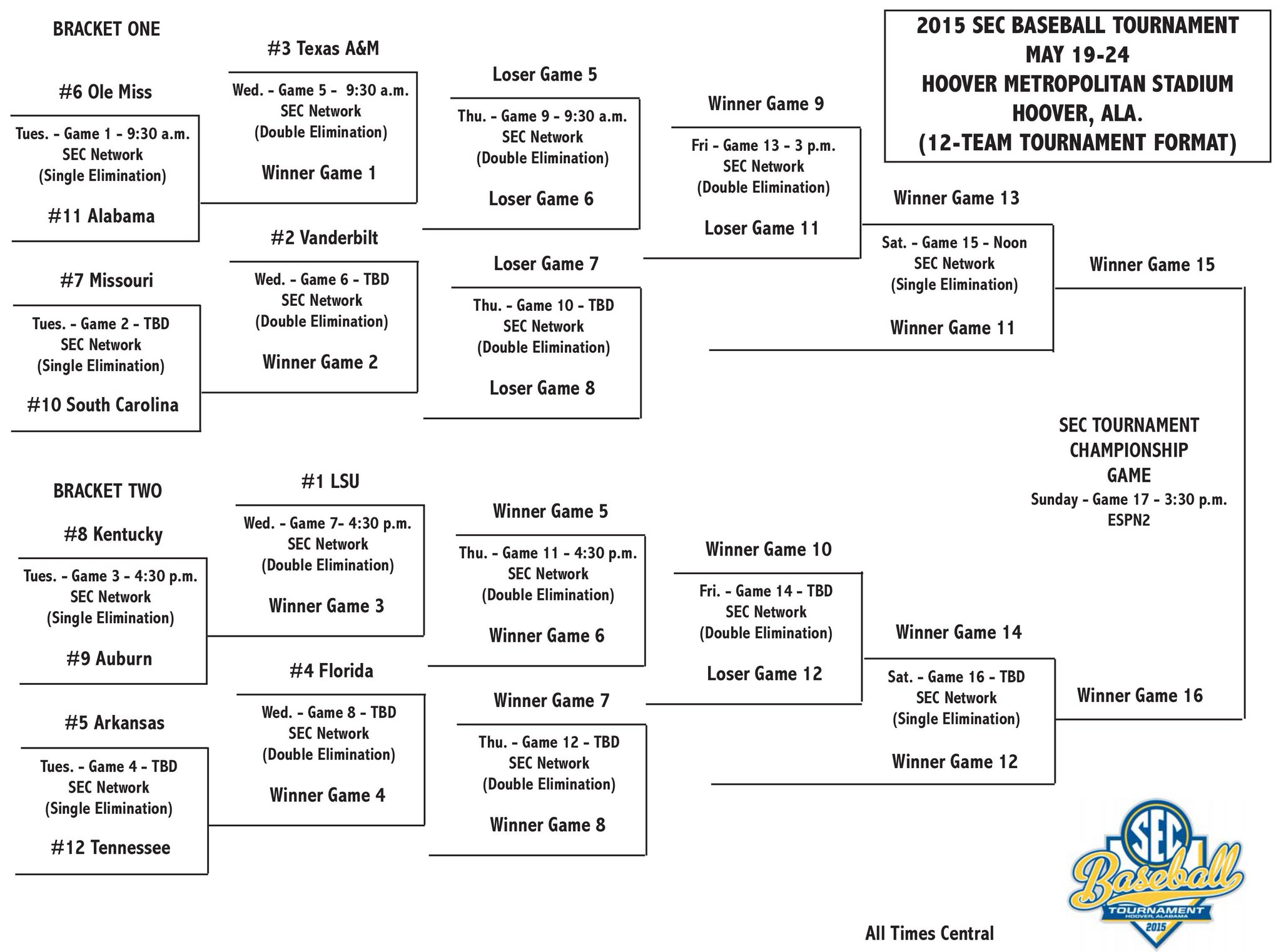 SHENANIGANS ALERT. Someone apparently has taken it upon themselves to bring attention to the long standing disgruntlement over beveling A&M's athletics logo. Senior pranks in college seem to be more intelligent than high school ones, mostly because they involve trademark law. No clue if this is a continuation of the rampant *original* Texas A&M University seal stickers all over campus, but if CNN can speculate, I can too. So, like a real journalist, I am publishing this unconfirmed photo here for the sake of being early to report, then maybe put up a retraction later if it isn't.
@GBHunting Attention, shots have been fired at the entrance to campus pic.twitter.com/QQyjCN8kyC

— Will Corn (@WillCorn76) May 17, 2015