In our frantic Christmas shopping frenzy we scoured the internet for A&M related gifts to give to our Aggie family and friends. What we discovered were some inspiring, depressing, and occasionally terrifying items that people have dreamed up and the university has rubber-stamped "APPROVED".
So whether you're trying to find a last minute gift for the most Aggie person you know or you're heading to a White Elephant party with a bunch of Longhorns, we have done the leg work for you. Here are the top items we found.
Chuck's Wishlist
It is a statistical fact that placing your baby in a brightly colored stroller only makes them easier for kidnappers to locate. Now Aggies can stay one step ahead of the game by camouflaging their child to protect them from would-be assailants and democrats. Mossy oak pattern is so realistic you will probably misplace your child twice a week. Has the added benefit of letting you pretend that you're gonna take your baby hunting or something. Optional Yeti cooler attachment.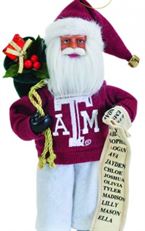 He's making a list of people who boo at Kyle Field and he's checking it 12 times! Ho ho ho, just kidding! Brighten up your holidays with this whimsical ornament depicting Santa on laundry day, wearing his ratty old A&M shirt and sweatpants as he takes his red suit for dry cleaning along with a list of other errands from Mrs. Claus.
Trying to find the perfect gift for the Aggie in your life? Look no further than this creepy old lamp! Found in Sul Ross's grandmother's attic, this light fixture is sure to remind anyone of the fleeting gift of youth and the inevitably approaching darkness. Soft white, deep maroon, or blacklight bulb included.
This lovable, huggable plush toy/blanket is sure to help that special child in your life to grow into a lifelong Aggie fan who skins things in his basement to wear them while he watches The Pulse in the dark with the sound off. Made from Fair Trade, gluten free, hypoallergenic polyester.
You've been married for five years now and it has become clear that this self-destructive cycle of over-hyped preseason followed by inevitable, crushing conference losses is just going to be a part of your husband's life. You can get used to him blacking out in the garage every Saturday night, after all you did say for better or worse, right? Rather than seeking professional help, be a real American and help him conceal his destructive problems by making them look #classy and elegant with this crystal A&M 
decanter
. Holds a full fifth of the cheapest whiskey money can buy.
Let everyone know that the only thing you love more than Aggie football is over-indulging with this "Texas A&M" wine holder featuring graphics exclusively for the South Carolina Gamecocks. This item is hard evidence that all SEC teams are the same to overworked, underpaid Cambodian sweatshop laborers. All sales are final, no returns.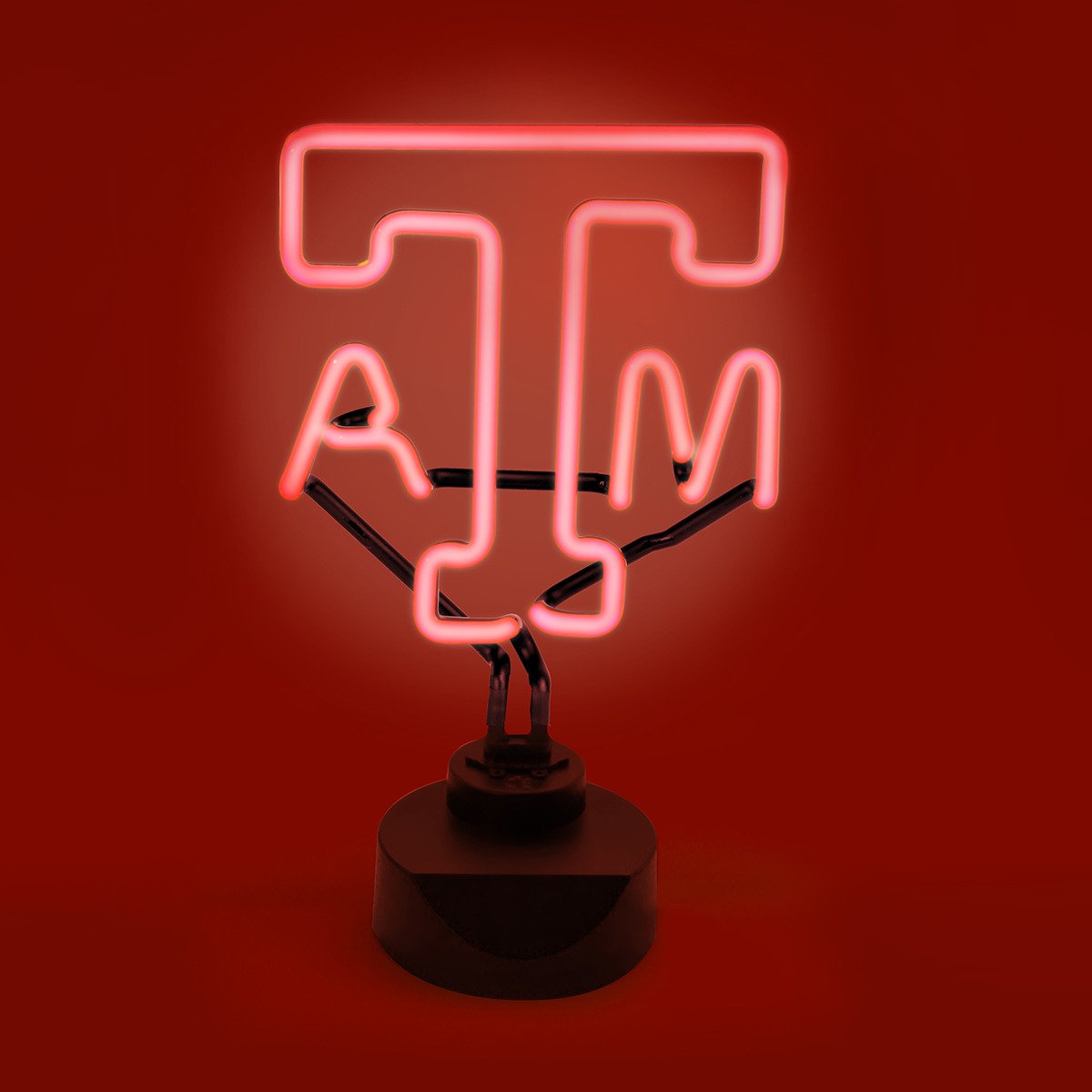 Look, this thing is clearly a piece of shit but at least it isn't beveled. Comes with three bags of oregano.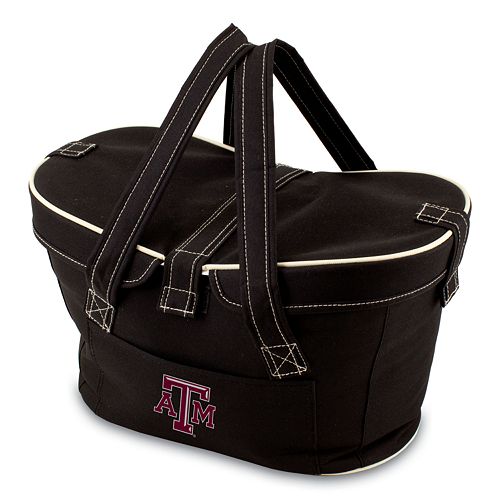 "For the love of pete, now she's gonna want to go on picnics and go see Shakespeare in the park or some dang thing when all I wanna do is stay home and watch the dang football ga-"
"We should get two, actually."
Wes' Wishlist
How do you stuff the stocking of that Aggie who has everything? Give him or her a relic from the Fran era. That's right, spirit bands - the bracelet that lacks spirit and bands exactly no group of people together. Yes, it's a piece of shit, but at least it's Maroon and has A&M on it, and that's all that really matters.
Finally, a Johnny Football even the slowest defender can get his arms around. Here's something you can cling onto while tears stream down your face watching the Music City Bowl, imagining what it could've been like if this little stuffed bastard were still on the field being wildass and awesome. If you ever get filmed doing things with your plush Johnny, just remember to tell everyone that tapes can be old. That usually clears everything up. Merry Christmas!
Jimmy's Wishlist

Show your school spirit while you're burning heaters and watching your dear ol' Ags settle for field goals in the red zone. This 100% ceramic heirloom pays homage to the Ags of yesteryear while adding a certain level of panache to your Snook, Texas estate. Can not fully confirm, but the artist of the piece insists the pebbles are from Junction, Texas.
Rush's Wishlist
Use this ornament to commemorate your favorite Christmas memory: that time Reveille ate an entire nickel bag off the coffee table, got stuck in the wreath, and stood staring and smiling at you for hours as you got high and watched the Gildan New Mexico Bowl. (Don't worry..."Reveille" is spelled correctly!)
The path to eternal intimidation lies in flat-brim caps. This is perfect for the obnoxious, unaware braggart on your list, particularly if they are tall. The front of the cap displays the traditional OL SARGE in profile: tough, military bearing, a no-nonsense drill instructor demanding the best from the team and fans alike. The underside of the brim features a special bonus: the exposed nostrils and grimacing rictus of Ol' Sarge in its full, fleshy glory. The wearer can go from relative standoffishness to 100% fear-inducing rabid, unhinged fanhood with the simple flip of a brim. Remember, don't bend that hatbill or Ol' Sarge's pearly whites will crease!


Gaze into her stare. Feel the warm embrace of Christmas cheer envelop you as you slip into unconsciousness. This kitchy glam throwback ornament features the Sherilla, a delightful corgi/penguin hybrid cloned by Aggie geneticists deep in the steam tunnels in the 1980s. Sherilla subsisted on a diet of cigarette butts and live pigeons, and could occasionally be seen scampering about after dark around campus, hypnotizing undergraduates with her cold and transfixing gaze. She was last seen on Christmas Eve 1991 driving a stolen PTTS scooter towards Caldwell and it's assumed she reached Austin and slipped into anonymity. Each Christmas it is an Aggie tradition to honor Sherilla with a plate of raw pigeon meat and Marlboros upon your mantle. All hail Sherilla.
Feel overworked this Holiday Season? Need a helping hand to get you through all the festive preparations? Look no further than this helpful lil' fella. His garishly cheerful face will transfix you as you gaze into his mesmerizing, blank eyes, while his elongated arms will soon embrace you in the sweet black sleep that surely leads into a spiraling state of fatigued madness. "Merry Christmas!" says the elf, as you breathe in the dull iron scent of his polymer body shell, the sharp synthetic pokes of his clothing fibers slightly abrasive on your cheek, beckoning you to inhale further, close your eyes, sleep, for otherwise Santa may never come...