WATCHLIST is back following a woolly first week of action. Let's run down the games we chose:
thacktor

: FIU pulled off the unlikely upset of UCF. Ron Turner beat George O'Leary and you can't prove swamp lightning wasn't involved.

Dr. Norris Camacho:

Made it to 2:30 AM before giving up with Hawaii leading 18-17. Colorado would go on to almost have a chance to win but not really so they're kind of getting better maybe.

Doug:

Washington has no offense. And they still almost pulled off the comeback after a 16-0 halftime deficit.

Chuck GBH:

Pitt managed to beat FCS Youngstown State by a touchdown but lost their best player for the season. Pelini'd.

oscarwildecat:

Auburn looked bad and still won because

Louisville's uniforms

created their own quantum fields of inverted laws of physics.

Jimmy Gards:

Texas scored 3 points. Everyone was Irish for a night.
The author deems thacktor the winner of the weirdest game selection because there is now a gif of Ron Turner getting a Gatorade bath, and that's just purely bizarre.
This week we're still in prime non-conference territory, so the pickings are ripe for awful, awkward, and unsightly matchups, with a little room left over for a top-ten showdown. Like the entity of college football itself, we'll take the good with the bad and run through a handful of these games and what has drawn us to them.
thacktor
Miami at FAU
Friday. 7:00 PM. Fox Sports 1.
Like I wasn't going to pick an in-state battle for Florida bragging rights two weeks in a row. Last week, FAU lost to Tulsa and Miami beat Cook College. Basically, this should be a fun Floridian pillow fight. Now listen, Miami may have defeated Cook by a sound margin last week, but their 
preseason photoshoot
has got to be worth -21 in the points department.
Tell me you don't want to see these guys play football. When you lose to this team, it's like getting beaten by a recent Adam Sandler movie. "He's dressed like his own twin! It can't be that bad OH MY GOD WE'RE ALL BEING EATEN ALIVE AND NOTHING CAN STOP THE HORROR!"
Why can't we at least get a matchup like Miami for week 2? We owe those bastards for what they did to us when Franchione was here, and it'd be nice to get some retribution. In fact, I want the following Fran-era OOC rematches:
Virginia Tech

Pitt
Clemson

Miami
Carry on with your day.
Chuck GBH
WASHINGTON STATE @ RUTGERS
SATURDAY, SEPT. 12th, 2:30 PM
"Watch"list is a bit of a misnomer as this game will not be televised due to public health concerns. This is not a failing of the college football broadcast system which thrives on ratings over all else, but rather an indictment of college football fans themselves and where they place those ratings. Yes, matchups between highly skilled and talented top 10 teams are very entertaining, but Shakespeare is most famous for his tragedies and comedies. This game is both.
Those of us in the Lone Star State assume that Charlie Strong is on the hottest seat right now, but he is ice cold compared to 
the heat
that former Texas Tech coach and offensive savant Mike Leach is feeling. After 
dropping their home opener
to FCS Portland State, Washington State fans are becoming more than a little discouraged with the fact that Leach's "the best defense is more and more offense and who cares about defense" strategy only works when the offense exists in some tangible form. Times like these remind you that there is a corner of the earth where people think and possibly say out loud, "God I miss 
Ryan Leaf
."
Meanwhile Rutgers - who without looking it up is presumably the strong favorite in this game - is 
continuing its run
of being glad that Baylor is around to make their athletic department look well run. Rutgers' repeated incidents of off-the-field infractions,
public coach meltdowns
, and 
general disastery
are all the more amusing when put in the context of being added to the B1G, college football's prudish Midwestern grandmother.
Enjoyment of college football is all about context. No matter who wins in this game, everyone loses except the third-party observer.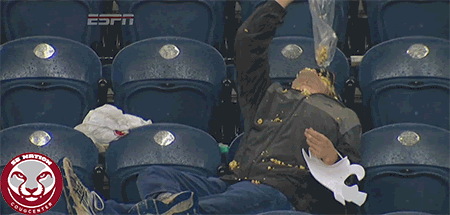 Jimmy Gards
UTEP at Texas Tech | 2 PM | FOX
Hola caballeros. Y'all ever driven from El Paso to Lubbock through New Mexico in the heat of summer with a hangover that would take George Jones to his knees? I have. Driving through border checks that are much closer to nothing than anything – in particular, a water source? NEVER FELT CLOSER TO DEATH AND GOD SIMULTANEOUSLY.
The El Paso Taco Longhorns are making the trip up to the muy guapo Mexican Standoff that is Texas Tech Football. When Mike Leach gets fired (see above) you'll start hearing rumbles from men in black denim floating notions of ditching Coach Suave for the Pirate. Lubbock is an industrial vacuum that runs on dust, plastic handled whiskey, and a certain rare breed of coach. The El Paso Taco Longhorns play football inside a (admittedly cool) mountain. It's hard to feel more remote and desolate in this country than these two locales. They deserve each other and should start a conference with the US and Mexican Border Patrol intramural teams.
AND THE FANS! HJs in El Paso and goalposts in Lubbock. You know those platitudes that politicians spew about everyone deserving a chance to go to college? BOGUS. These aren't colleges. They're daycares. They're training programs for Allsup's management. They're FFA of dirt farms. I can't wait for the game.
Doug
Notre Dame at Virginia
2:30 PM Saturday
ABC
It's the fan-base showdown no one asked to see: Pretentious sweatshirt-clad Catholics vs. Pretentious boatshoe-wearing WASPs. Live from Charlottesville in a kind-of-ACC showdown.
How lackluster is the prime mid-afternoon viewing window this week? ABC is subjecting the American public to the Mike London experience. Ask your nearest Virginia alum for an explanation.
There are, of course, semi-credible football-type reasons to take this one in, all based on the rock-solid, irrefutable reasoning that transitivity in college football is a thing. (It is not, but we will apply it anyway.) Is Notre Dame, fresh off a season-opening dismantling of texas, really that good? Or is texas that bad? On the side of the Hoos, what can we infer about UCLA and freshman QB Josh Rosen, who dissected UVA on opening weekend?
Spice it up a bit by taking the Hoos to cover the suspiciously low 12 point spread as we all bide our time before heading into Kyle Field to personally check out what half a billion dollars on a Hate Barn fixer-upper looks like.
Dr. Norris Camacho
#7 Oregon at #5 Michigan State
ABC, 7 PM
This is the sort of showdown that everyone talking heads on TV get excited about nowadays: the flashy sizzle of a wide-open offense up against the brute stubbornness of a gritty, old-school defense.
Head coaches sacrifice much to the altar of their careers, but these two venture into the realm of the obsessive. Dantonio 
had a heart attack
on the sidelines following a big OT win over Notre Dame five years ago. Helfrich will 
straight up call the cops on you
if he thinks you're spying on practice. These men are both somber, serious guys. They appear human-like, if not affable, when addressing the media, even inspiring the GameDay crew to 
dress in special Halloween costumes last year
. But beneath that veneer of strained agreeableness burns a pair of intensities that are hotter than a Pac-12 vs. B1G taek. The only thing a guy like that hates more than losing is losing to a guy like that. This one should be intense and emotional, and hopefully that competitiveness flows out onto the field and gives us a hell of a game without any cardiac incidents or police dispatches.
TONIGHT'S HOT ACTION