Can't wait for the night to come, that's when the fun really begins- "Shoegaze"- Alabama Shakes
Week three and it's time to play some real big boy football. I don't need any narratives or sub-narratives, just let's see what we got against a good team. And since I am in a no bullshit kind of mood, I feel that there is only one man who can convey my feelings properly, his name is Dale Peterson. Take it away Dale:
Right out of the gate, a picture of the constitution, dog tags and the foul anchor Marine Corp emblem. This is gonna be 'Merican AF!

Here comes Dale and his gallant steed, as one does in 2010 when this was made. He rattles his life accomplishments. I think the quick edits might have cut a few Dale's life accomplishments, like: Lifelong Brony! Lady Gaga enthusiast! And of course OG member of T Swift's #squad. Or or maybe some racist shit, you be the judge.

Now Dale is about to take you to school. The Alabama Ag Commissioner is one of the most important positions in Alabama (it's not), it's responsible for 5 billion dollars (closer to 34 million.) But facts aren't important because THUGS AND CRIMINALS! That is some solid misdirection right there. I do get a little lost though, are the thugs and criminals stealing Alabama's money? All I know is whoever it is they don't give a RIP!

Dale fear mongers a little bit more, but then starts in on his opponents. I hope the Alabama primaries are like Dale describes, where the other candidates get together Sooby Doo style to steal poor Dale's handmade campaign signs.

Now the coup de gras, Dale asks what kind of dummy would support his competitors? Quick cut to the horse, who is probably thinking,"Well right now...." and here comes the rifle with the slogan WE'RE BETTER THEN THAT!

Unfortunately Dale Peterson ended up third in the Alabama Republican GOP, but in my mind he is still out in the Alabama country side, riding Skipper (the original horse sided with his competitor and hasn't been seen since.) Taking names and not taking any bullshit. God Bless you Dale Peterson. And BTHO Auburn!!



Auburn Playlist: We're Better Than That!

1. Battle Sirens- Knife Party (feat. Tom Morello)
After years of silence all the former members of Rage sure are making a lot of music lately
2. Waste a Moment- Kings of Leon
It's not the Kings I fell in love with in the early 2000's, but it's a whole hell of a lot better then their last few offerings
3. Cash Machine- D.R.A.M
I love D.R.A.M, I also love party rap
4. Shoegaze- Alabama Shakes
The subtitle of this article, and such a great song
5. Fight for You- John Paul White
I miss the Civil Wars, but this solo project will suffice
6. Champions- Kanye West (feat. Gucci Mane, Big Sean, 2 Chainz, Travi$ Scott, Yo Gotti, Quavo, Desiigner
The Atlas Shrugs of rap anthems, oh and Gucci was born in Alabama
7. Find 'Em, Fool 'Em and Forget 'Em- Anderson East
A lot of wonderful stuff like this comes out of Bama, and a lot of terrible stuff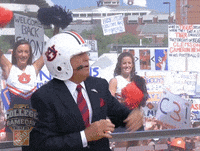 8. Hypatia- Wray
Cool band from Birmingham
9. Same Old Blues- Phantogram
I am really excited for the new Phantogram album
10. Orleans- Looksy
Some solid soulful rock outta Alabama, this list is way more laid back this week
11. Lay Here- The Mulligan Brothers
I don't add enough "country" style music on my lists, Some brothers from Birmingham are here to fix that
12. Anywhere- Dillon Francis (feat. Will Heard)
Alright picking it back up
13. Driving School- Daniel Elias + Exotic Dangers
Great name for a band out of The Shoals
14. No Problem- Chance the Rapper (feat. 2 Chainz & Lil's Wayne)
My favorite song from this past summer
15. Die for Alabama- Firekid
I guess some people feel this way?
16. Dicks out for Harambe- Rockie Gold
I absolutely do not approve of this song, but I just want y'all to know that this is a thing. Someone wrote, "sang", engineered and produced this. I hate the music industry
17. The Life You Choose- Jason Isbell
I feel really bad putting this amazing song and singer/songwriter after that last thing. Just listen it will cleanse you pallet
18. Randy- Justice
OK here is some more good stuff
19. Flow With It (You Got Me Feeling Like)- St. Paul and the Broken Bones
I had to put a lot of solid jams after that Harambe disaster. I am sorry
20. Hit Da Floe- Dirty
I miss angry rap, Alabama mad rap was a lot of fun
21. High (Remix)- Young Bombs
Sometimes you just need to dance it out
22. Burnpiles, Swimming Holes- Lee Bates III & The Glory Fires
The best name from any band out of Alabama
23.Frontlines- Zeds Dead (feat. NGHTMRE & GG Magree)
Back to football for a second, it's going to come down to the big boys tomorrow. This one is for the front lines that never get any love
TURN UP!!