Johnny has a history of using the touchdown celebrations that others have crafted in the past. Fortunately for him, he is such a good player, that no one minds it at all. So far, he's been:
- Kaepernicking - from Colin Kaepernick
- Cashin Out - from Ben Malena
- Superman - from Cam Newton
Obviously guys like Kaepernick don't mind.
#Salute to @JManziel2 for kaepernicking..... Keep ballin the rest of the season!

— Colin Kaepernick (@Kaepernick7) September 15, 2013
So, what other TD celebrations would you like to see Johnny do while he finds his way to his unique dance?
If there is a camera nearby, I suggest opening the door. It's smooth, not flaggable, and quick.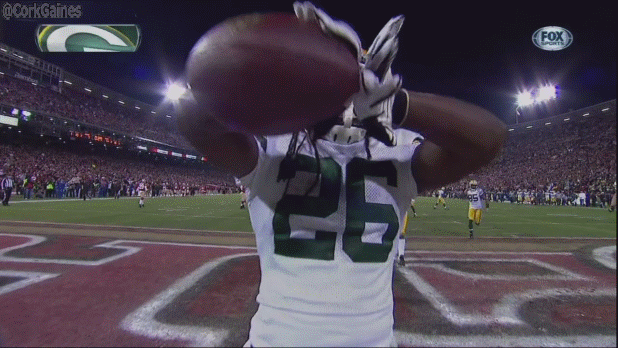 Of course, if you are more of the dancing type, you could just keep it simple and clean with a generic fat guy type happy dance:
Maybe you are the kind of guy that likes to get his hips a little more involved:
Maybe you want to get your arms into it. If so, the Bucking Bronco is for you:
If you do have Gronk like hip control and Von Miller groin pounding arms, maybe you can opt for Tony Scheffler's West Side Story remake:
Of course you could always settle for the dance any white man can perform by tossing out a Gangnam Style:
But Gangam Style is pretty much over at this point. That was last year's song. Last year's dance. This year, we have the Fox, and there are a couple of good options in here:
But that song isn't the hit that Gangnam Style was, so not everyone would get it right away. Maybe you can opt for a style of dancing that everyone is familiar with at this point:
A good twerk would probably get you on SportsCenter, but given the off-season media attention, a Scarface definitely would:
I don't recommend getting any more criminal than that though:
Doing anything even remotely related to Hernandezing will get you tazed on sight. (Note: never do this incredibly stupid dance):
Until you do find your own style, you could just keep it classy and simple:
Regardless of what you choose to do Johnny, just keep balling, and no one will care what dances you are borrowing. I'll just sit back, relax, and enjoy your work for the rest of this season.